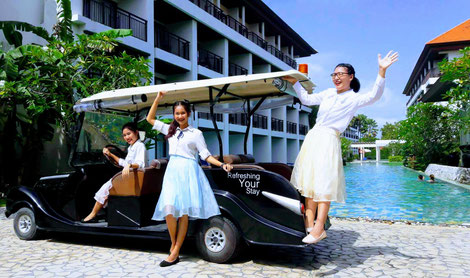 "The whole purpose of the D Host is to create a memorable stay that is completely customized"  
It's the little things that count, goes the saying. At least, that's what Geoff believes. And as Operation Manager at D Varee Mai Khao Beach, Phuket on the Bund, he should know. Geoff and other D Hosts are passionate about the details that make your stay unforgettable.
1.Before Your Arrival Before you even step foot inside a D Varee Mai Khao Beach, Phuket, your D Host is working to create a flawless experience for you. All lei- sure guests receive a personalized email two weeks before their arrival connecting them to their D Host, who will offer to pre-arrange anything from a spa visit to a dinner reservation. 
 2. During Your Stay When you arrive at the hotel, your D Host will welcome you in the lobby.  Guests are encouraged to reach out to their D Host directly to take care of whatever they may need throughout their stay.
Be it as simple as a dinner reservation, or as extraordinary as a marriage proposal, our D Host is adept at helping their guests create those special, one-of-a-kind moments.
3. For Your Departure The most difficult part of  D Varee Mai Khao Beach stay is leaving, because it is the last thing you want to do. Your D Host will be there to make sure your departure is effortless.